Well like the title says this will be the beginning of my Streethawk series motorcycle. I wont actually be buying my base bike for a few years until I am done putting my wife through school but I decided to get started. I chose the series bike because I like the look of it better than the pilot bike. I like the weapons and the weapons areas of the front section. I also think he looked better as he was able to sit up straight while riding it as well as the bike being higher. I grew up on a Yamaha XT 350 and later a Honda XL 500. In addition to loving going off road I liked being able to sit up straight. I never cared for a bike where you have to hunch over.
Okay my base bike will be different. Kawasaki came out with a true Enduro bike in the early 90s. The KLR 650. Unlike the XL and XT lines which were basically baja bikes with lights and blinkers added the KLR was a true enduro bike. Liquid cooled, 6 gallon tank instead of three, an electric start (I will never kick start a bike again) and overall improvement in design. If you going to do insane, double, mid air back flips the KLR would not be the best choice but for moderate jumps and normal sane off roading it's perfect. I bought a brand new KLR in 93. It had a very Street Hawk look to it which I just loved. The newer models look even more like Street Hawk.
Here is the 2012 model. This will be a few years down the road. New they run about $6,000 but used only a year or two old with low miles you can get them for about half that.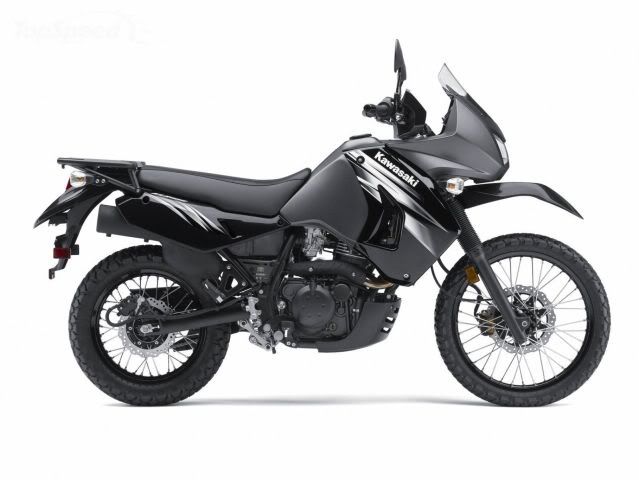 It will become this: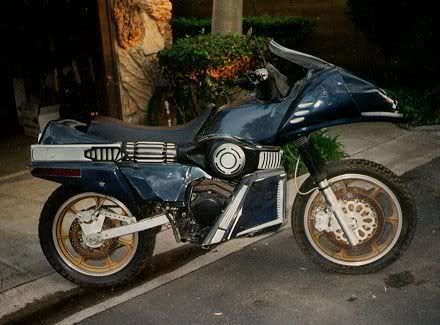 The correct mags will be added to the wheels. I will keep the stock set of wheels and make it so they can change out fast as the mags, according to what I read, did not do so great with jumps. One of the hardest parts is all the wheel stuff, discs, etc. Probably gonna skip a lot of that. This will not just be a replica but a fully functioning motorcycle that will be used. I need to be able to replace parts and if you look at the above pics and just picture the stock KLR wheels but replaced with Street Hawk mags it will look pretty good.
So when I go out looking to look like Street Hawk I'll ride with the mags but when I'm just riding I'll have the stock tires depending on the mag strength, jumps, etc.
Other changes will be made. The map in the console will be replaced with a real GPS since that was the idea anyway. Obviously may need to make adjustments to various parts to fit the KLR but the wheels aside I want it to look as close as possible.
It will have a functioning (as in goes in and out) laser, machine gun, missiles, headlight, airfoils, etc. The controls will match the series bike for all weapons and the helmet will have a remote switch visor for both up and down. The switch will be on the handle bar as well as the side of the helmet. I built a similar thing in high school for my helmet at the time.
The KLR also has great stock hand guards that I love and have saved my hands on numerous occasions. Again depending on real riding or show off I'll put those on. I'll leave the mirrors off when on display in my collection and put them on when riding. I will however trade out the higher round stock ones for my preferred low profile square ones. Blinkers and plates will be re-designed to come off and go on easily. Off for display and show off but on for street legal and safety purposes when riding.
I'm about a third of they way through all the reading I can find online about the bike.
So it begins........