---
Posts:624
Joined:Sun Jan 21, 2007 9:53 pm
A shot I took from the front: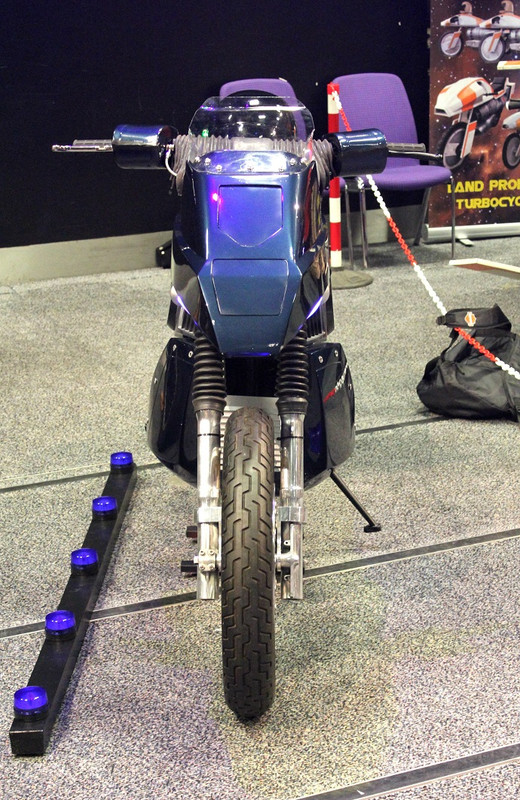 The experience was more than can be easily put into words. Jon did a fantastic job on the bike, and meeting and then hanging out with Rex was a truly surreal experience. Two days worth of memories that will last a lifetime.
---
LOL, thanks everyone. Still some refinements and developments to complete. Hope you can all join me one day.
---
That shot from the front is slick.
---
---
Damn! I never should of sold you my parts! I am soo Jealous! LOL
Jon, on your headlight and laser door cut outs, how did you mount these with Velcro? That's how the originals were held on. They had about a 1/2" lip under each cover then mounted 2 part Velcro.
Talk to us about you're handlebar rubber trim. From what I can remember, that is dead nuts on! Down to the seam line. Last I saw from your site there was 2 shift boots glued to a center section of rubber. The original was extra long with a lip and then a 1" aprox metal trim with screw holes/and screws kept it in place around the handle bar rectangular opening.
---
Yes I used double sided tape just for the show, I will be mounting them properly and making a headlight/ infrared thingy soon. The boot was made with RTV silicone dyed black from a 2 part series bike replica mould (mold) kindly supplied by Chris Bromham. It fitted the handlebars but had to be trimmed to allow the handlebars to be turned etc.
I didn't have time to attach it to the nose so It just rested on the handlebars and was tucked into the nose opening. It was quite snug so it looked fine.
---
Any way to make a mold of the handlebar boot for the rest of us poor folks! This boot mold was not found during Streethawk bike purchase at Universal.
---
Jon,

Did you ask Rex what the small firearm actually look like that attaches under the nose? I noticed you
have some sort of object there.
---
TBH no I didn't. I have asked him some tech questions in the past but he doesn't remember or didn't know , he just showed up did his part and went to the beach with Joe Regalbuto...true story! On my part it was a bit of artistic licence, It's just a rubber slug/ ball in carbon fibre tube held onto the bike with a windsurfing sail clip!
---